The tremors, the shakes, cold sweats- all in full effect as I go through facebook withdrawal.
I still think in status updates sometimes. Something happens and I think "I could really get some chatter going with this one...".
I just got an email from
Keely
, saying she had some perfect wall fodder, that I am missing out on.
My friend Joey (not
this
Joey) just had a baby and I'm missing the post-baby pictures.
So those are the downsides.
The upside is that I don't miss the compulsion I had to check and recheck throughout the day. Facebook should be enjoyable and mindless, a little escape. Instead I had this weird sensation that I needed to keep scrolling until I hit the last updates that I had seen, the last time I checked. It was no fun anymore. It feels nice to be free.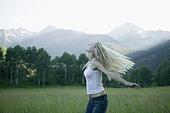 FREEEEEEEE!!!!!!!!!!!!