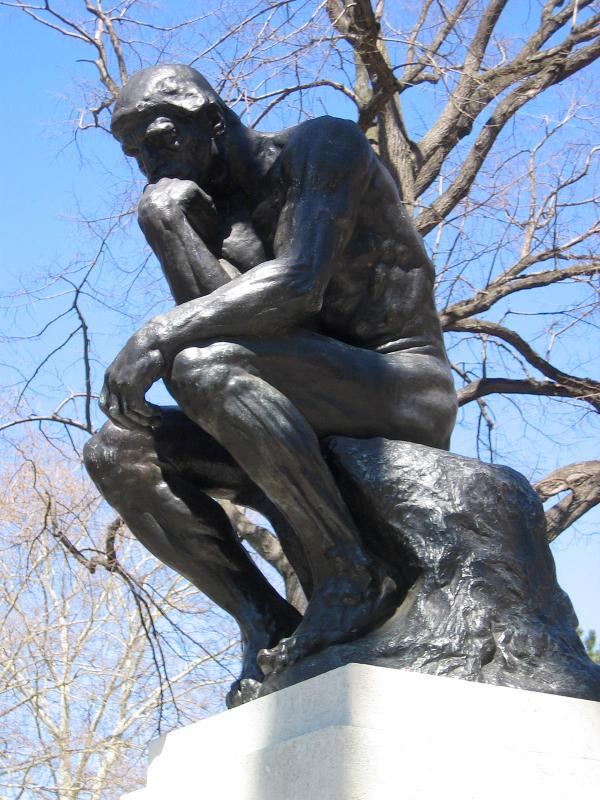 I'm looking for an April goal. Now soliciting any and all ideas. To refresh,
here
is what I'm talking about when I say "goal".
Here
,
here
, and
here
are my goals for January, February, and March.
A few ideas:
One bag of trash for the entire month. (Apparently there is a Charlottesvillian who only goes through
less than a bag a year
!)
No shows for a month.
Read (fill in the blank) number of books.
Run three times a week.
No-spend month.
I'm kind of drawing a blank and feeling a little uninspired. Calling all blurkers- come out and give me a suggestion. I loved my goal for January. February was a great goal to get me moving and out of my winter stupor. March has been a struggle, which is great to realize. More on that later.
What
is
inspiring is this picture, which also came up when I googled "person thinking" images. Courtesy of tovadarling. Ha.
March's goal of limiting my internet use has been difficult and that is great to realize. Like the other two goals, when I started out I think I envisioned it being pretty simple to stick with. Not so. I am more aware of how often I flee to my laptop to just zone out and relax once the kids are (finally) napping. I'm embarrassed to note how poorly I've kept this goal. And that's good for me to know.
Here I thought I would wile the hours away, contemplating life, writing poetry, doing yoga, or arranging flowers in a vase whilst enjoying the late afternoon sun. Such lovely things would I do, instead of losing brain cells by looking at other people's vacation pictures from 2003 on facebook. I would journal! I would pray! I would make complicated dinners! I would do sit-ups!
Sigh.